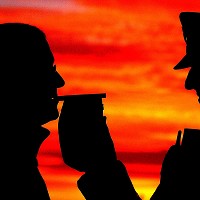 In 2010-11 5,348 people were convicted of drink-driving in Scotland, a fall of almost a third from the figure in 2006-7 of 8,071.
These figures were announced by Justice Secretary Kenny MacAskill who was responding to a parliamentary question asked by MSP Stewart Maxwell. Maxwell said that the statistics showed that "fewer people are drink or drug-driving".
The Justice Secretary has proposed reducing the drink-driving limit in Scotland to 50mg per 100ml of blood - a fall of 30mg - and is hoping to bring the plans in to effect as soon as possible. Mr Maxwell said he was supporting this proposal.
He went on to say that he found it "concerning" that a high number of people still drive while under the influence of drugs and alcohol, "posing a danger to other innocent road users".
However, Mr Maxwell believes that people are increasingly believing that drink driving "is completely unacceptable". He credited the success in part to "the hard work of our police officers" who are "taking a tough stance on drink-drug drivers".
At present drivers face tough penalties for being caught drink-driving, including imprisonment, fines, driving bans and years of highcar insurance premiums.
Copyright © Press Association 2012.