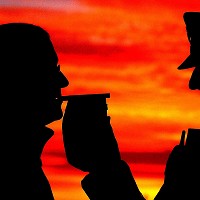 Drink-driving campaigners are calling on the Government to do more to change the public's thinking about the dangerous consequence of drinking and driving.
The mortal dangers of drink-driving need to be brought home to teenagers who are not old enough to drive, the campaign Don't Be That Someone urged.
The appeal comes after the Government's recent announcement of a new "package of tough measures to crack down on drink-drivers".
The award-winning Don't Be That Someone campaign released its Christmas drink-drive message on December 1. It includes a new documentary that gives a breakdown on the dangerous consequences of driving after drinking.
The holiday campaign also features fundraising to enable the group to get its message across to more teenagers, aged 14 to 18, throughout the UK.
"We welcome this consultation on the proposals. But it doesn't go far enough to tackle the serious problem of drink-driving," said Michael McAdam, founder and trustee of Don't Be That Someone, adding:
"The proposals seem to focus on making it easier to prosecute or 'catch' suspected drink-drivers, or trying to deter people from drink-driving by adding more severe penalties if they're convicted of a drink-drive offence.
"Our police are thinly stretched already - they haven't got the capacity to police and enforce these proposals. And putting these proposals in place alone won't have a long lasting impact.
"These proposals won't fix the root cause of the problem - it doesn't show young people why drink-driving is dangerous, or the real consequences."
Copyright © Press Association 2012