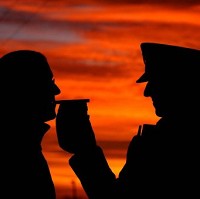 Drink drivers should face tougher penalties of up to two years in prison, an MP has said.
Rehman Chisti said repeat offenders should face a bigger deterrent as they are putting lives at risk.
Courts should be given more discretion to apply tougher penalties when the need arises, according to the Conservative MP who was speaking at the launch of his Drink Driving (Repeat Offenders) Bill.
He believes the bill would enable to magistrate's court to "refer a third or subsequent offence for drink driving to the crown court for sentencing, and grant the crown court the jurisdiction to give a custodial sentence of up to two years".
The MP for Gillingham and Rainham told the Commons: "Studies have consistently shown that someone's ability to drive is impaired by having alcohol present in their blood and that the risk increases as more alcohol is consumed. The risk to public safety has been recognised in law for almost 90 years, since the first drink driving offence was introduced in 1925."
He said there is a peculiarity in current laws which means that repeat offenders a rarely given more than six months, regardless of how many times they are caught driving over the limit.
Copyright © Press Association 2013