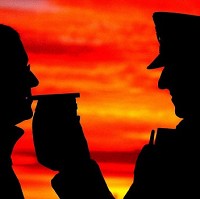 A public consultation is set to begin on the Scottish Government's proposals to reduce the drink-drive limit.
The Government plans to cut the current limit of 80mg alcohol per 100ml of blood to 50mg. The Justice Secretary announced the proposals earlier this year.
Under the Scotland Act (2010-12), powers to alter drink driving limits have been transferred to Holyrood from Westminster.
Cutting the limit to 50mg would mean Scotland was brought into line with the limits in Spain, Germany and France.
If motorists who drive over the alcohol limit, it impairs their senses and could lead to big hikes in theircar insurance .
Campaigners for road safety cautiously welcomed the proposals, but a limit of 0mg would be their ultimate aim.
General manager at road safety charity Brake, Sarah Fatica, said: "Whilst 50mg is a step in the right direction, what we really need to see is a strong message from our governments in Scotland and Westminster to say that not a drop (of alcohol) is acceptable if you are behind the wheel.
"Far too many lives are lost on UK roads annually because of drink drivers.
"If we could have a zero-tolerance approach to drink driving, lives would obviously be saved."
Copyright Press Association 2012