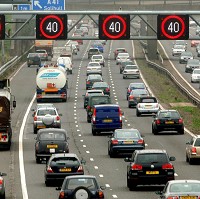 No, it's not just your imagination, there really was more traffic on the roads this spring, new figures have revealed.
This year's drier spring helped drive up the total number of miles travelled by all types of motor vehicle between April and June.
According to provisional figures from the Department for Transport the total distance driven was 2.9% more than during the same months last year, a period that saw heavy rainfall and fuel prices topping 140p per litre for the first time.
Car traffic was up 2.3%, making a goodjourney planner more useful than ever for many drivers. Meanwhile, heavy goods and light goods vehicle movement jumped 1.7% and 6.3% respectively. Traffic on motorways was 4.9% heavier than it was in 2012 with the miles travelled on minor roads and A roads 3.6% and 1.4% higher.
The data also confirmed a long-term trend towards more motorway driving. Just over a fifth (20.9%) of all April-June traffic was on motorways, a 4.5% increase on the same period in 1993.
But despite this year's increase traffic volumes are still 1.9% lower than they were pre-recession, in spring 2007.
Copyright Press Association 2013