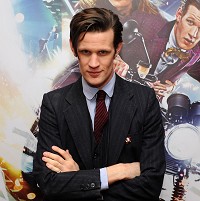 On screen Dr Who actor Matt Smith has become well used to 'driving' his TARDIS through time and space.
But now, away from the cameras, the big-hearted star is auctioning off his very own 'time machine' - a Vauxhall Corsa he's been driving since he was 18 - to help a children's charity.
The 30-year-old has used the car to travel to Dr Who filming locations and regularly drove it between the University of East Anglia in Norwich and the National Youth Theatre when he was a student.
It's still in near perfect working order but while Time Lords may be able to do without breakdown cover by travelling back in time to reverse any mechanical mishaps, whoever ends up buying the old Corsa - nicknamed 'The Shed' by Matt's friends - would be well advised to purchase cover.
Matt said just like the TARDIS, his Corsa had been involved in "lots of adventures and a few mishaps" over the years, resulting in dents, scratches and a gaffer tape-secured wing mirror.
Proceeds from the sale on the Ebay motor auction site will go to the Starlight Children's Foundation.
Matt is an ambassador for the charity which helps seriously and terminally ill children.
Copyright Press Association 2013