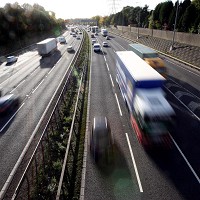 The economic downturn seems to be having a considerable effect on the way people drive, with many driving less often in order to save money.
A survey by Enterprise Rent-A-Car found that 65% of Britain's motorists have changed their driving habits as a result of the economic slump and increased petrol prices, while as many as 30% only take their car for essential journeys.
Meanwhile, 35% of households have also recently sold a vehicle so that they only have one compared to just 4% who are currently planning to buy another.
More than 10% use public transport or ride a bike when they can instead of driving, and one in 10 now use a car with a smaller engine in order to pay smaller car insurance, petrol and running costs.
UK managing director at Enterprise Rent-A-Car, Mike Nigro, said: "While we see some dispensing with a car completely, for many people that's not a feasible option.
"Instead, many are downsizing the number of cars in their household and experimenting with alternatives."
Copyright Press Association 2012