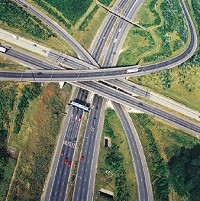 Heavy rain in West Yorkshire resulted in the M1 highway being closed and properties flooded on Tuesday.
The M1 was out of service between the 48 and 45 junctions southbound and between the 43 and 46 northbound after floods left the road unfit for use.
Police reported that three crashes had preceded the closure and that cars were readmitted onto the road at 3am the next morning.
In east Leeds, fire crews attended waterlogged properties after drains overflowed in Swillington and Garforth.
Some households were forced to find alternative accommodation. A fire crew reported that 10 homes had been flooded on one stretch of housing in Swillington, Neville Grove.
A traffic officer involved with the emergency measures described the driving conditions as "horrendous".
He added that these were the worst driving conditions he had observed in 20 years.
Sgt Duncan Street said that rain had collected in ditches and had resulted in the corrosion of earth and rocks which had affected road conditions.
He added: "We had at least three confirmed collisions in the space of a few minutes because of the volume of rain that was falling and the conditions at the time were very, very dangerous for the public."
Copyright Press Association 2012