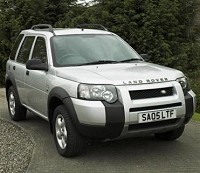 Jaguar Land Rover has been dealt a double whammy by a report saying that popular models of each marque are among the least reliable.
A survey of 84,000 cars up to eight years old by Which? Car magazine relegates Jaguar's S-type and XF Land Rover's Freelander and Discovery to near the bottom.
The least reliable - scoring 75.8% - was the Audi A5, while the Honda Accord topped the poll with 98.5%. Reliability was based on the number of breakdowns, faults and "niggles".
Said editor Richard Headland: "Owning a reliable car can make the difference between getting your summer holiday off to a flying start and sitting on the hard shoulder of the M6. You can't do better than the Honda Accord, which is one of the most reliable cars we've ever surveyed.
"Japanese cars in the main seem to run like clockwork, although there are a few exceptions to the rule. It's also encouraging to see good reliability scores for the best-selling Ford Fiesta and other small, economical cars."
Honda did particularly well. Two models of the Jazz - 2008 to the present and 2002 - were second and sixth, while the Civic Hybrid - 2006 to the present - was seventh.
Copyright © Press Association 2009