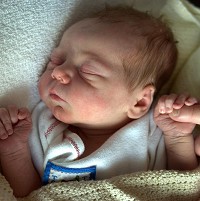 New dads should make sure they have enough sleep before driving their baby home, experts have warned.
A survey found that more than half (58%) of new dads drove their baby home from the hospital after getting just five hours' sleep or less in the previous 48 hours.
Researchers at Loughborough University said the effects of such severe sleep deprivation can be similar to drink driving.
The poll of 1,000 fathers aged 18-40 found that 25% could not remember driving their child home for the first time.
One in 10 admitted they had driven home after just an hour of sleep or less, putting them at an increased risk of an accident and possiblecar insurance claim.
More than 60% of those surveyed said their driving abilities would be affected by such an extreme lack of sleep. But 85% said they would make the journey again, with many saying they were left with no other option.
Louise Reyner, sleep expert at Loughborough University, said: "The excitement of being a new dad can overshadow tiredness, and it is only when things begin to settle down on the drive home, when dads may realise how sleepy they really are."
Copyright Press Association 2012