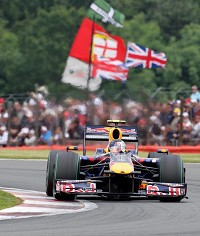 Donington Park's last efforts to raise funding to upgrade the circuit and hold the British Grand Prix have failed, making the race temporarily homeless.
Donington Ventures Leisure Ltd, the company that operates the track, has been dealing with financial and legal hurdles since it acquired the rights to hold the race.
The company had attempted to raise £135 million by launching a bond issue earlier this month, but has now withdrawn it.
Donington had until September to ready the funding for the planned multi-million pound overhaul of the race circuit and its facilities.
Although that deadline was extended to October 3, Donington missed it, and it now appears that Silverstone may be invited to again hold the race.
But chiefs at the British Grand Prix's traditional home have made it clear that it would have be a long-term deal. There has been no word from Donington on the situation so far.
F1 boss Bernie Ecclestone said in June, that there would definitely be a British Grand Prix in 2012, and that it would be at Silverstone if Donington failed to come through.
He has retracted the statement since then and said that it is not certain whether a Grand Prix will be held next year at all.
Copyright © Press Association 2009