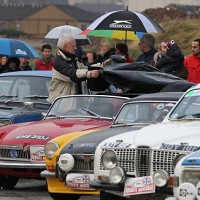 The Donington Historic Festival 2015 will take place on the first May Bank Holiday weekend, it has been confirmed.
The event - which features racing machines from the 1920s to the 1980s - will be held on Saturday 2nd, Sunday 3rd and Monday 4th May at Donington Park.
Its organisers say the event, which has grown in popularity since it was established, will have something for everyone; including an open access paddock, classic rally and karting demos, plus a huge range of historic motor racing.
Festival founder, Duncan Wiltshire believes the event has now established itself as a major highlight on the international calendar and is always a firm favourite with crowds.
There will be a huge variety of cars on show at the event, with single-seaters to GT cars, sports cars and Touring Cars all competing.
Organisers have said that ticket prices for the 2015 event will be announced in the coming months, with tickets going on sale in November. For more details visit www.doningtonhistoric.com.
Copyright Press Association 2014