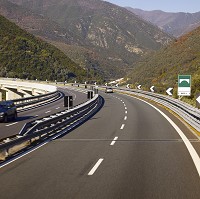 British motorists planning to hit the roads in Italy this summer are urged to ensure they are fully prepared and have up-to-date knowledge of its unique regulations.
Adding his voice to the warnings is the Institute of Advanced Motorists (IAM) chief examiner Peter Rodger who primarily reminds all Britons of the need to have their driving licence, certificate of insurance and vehicle registration document (V5) with them at all times.
Those who still have a paper licence instead of a photo card need to carry their passport with them too.
One of the first things on your driving and travel checklist should be the peace of mind that comes with full cover against the unexpected.
The RAC's new 5-Star Comprehensive European Breakdown Cover package is the only package on the market from a major provider.
Drivers are reminded that in the unfortunate event of a breakdown or minor accident, they should always wear a reflective vest and place a reflective triangle behind their vehicle.
During the daytime, headlights should be on and dipped at all times - including during the day when driving in the countryside.
It is not a requirement by law for them to be on in the day when driving in towns and cities, however. Motorcyclists should always have dipped headlights on.
For your reference, unleaded petrol is known as benzina and diesel is gasolio, while LPG is also available at certain stations.
Motorists should watch out for red circle signs stating Zone Traffico Limitato in town centres as they need official permits to drive past them, and radar devices used to detect speed camera are illegal across Italy.
Drivers are reminded that the legal drink-drive limit is 50mg per 100ml of blood, far less than the 80mg limit in the UK - although avoiding alcohol altogether is a sure-fire way to help ensure nothing goes wrong when driving abroad .
Anyone preparing to drive from the UK to Rome should prepare themselves and their vehicle well, as the journey takes around 20 hours. Plenty of rest stops must obviously be included.
As most journeys to Italy mean driving through France, Mr Rodger says drivers should also be aware of French driving laws, such as the need to carry a breathalyser kit.
Copyright Press Association 2014