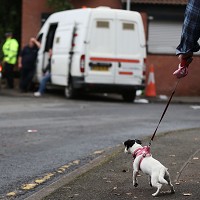 The dogs' home tragically gutted last week by a fire has asked well-wishers to stay away from its Cheshire sister site - after the M6 became gridlocked due to people trying to hand over donations.
Manchester Dogs' Home has received more than £1.4 million in donations in the days following the suspected arson attack.
But staff at the site in Warrington have now asked the public to show patience, after tailbacks formed on the M6 motorway sparking health and safety concerns from the police.
Writing on its Twitter account, Manchester & Cheshire Dogs' Home said: "We've gridlocked the M6 & Warrington, can donations now be done next w/end, police concerned with H&S (health and safety) wow, we've stopped the M6.
"Sandbach Services southbound will take donations to ease the M6 traffic, pls use if possible."
The charity has thanked donors following the blaze, which left at least 50 dogs dead and others injured, but asks that anyone wanting to travel to the Cheshire site to wait until next weekend, or visit the nearby service station for the time being.
A charity spokesman said: "At the moment the response has been so great Cheshire Dogs Home is gridlocked, so until further notice please be patient and stay away from our Cheshire home."
Detectives are still investigating the cause of the fire.
Copyright Press Association 2014