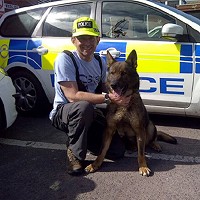 A German shepherd police dog tracked a suspect for two miles following the theft of a Mercedes car.
Police dog Troy, who is four years old, picked up the scent and led officers from Avon and Somerset Police straight to the suspect, with the help of a police helicopter.
The high value car was reported stolen from a house in Winscombe, North Somerset, an incident which comes as a reminder for owners to check they are covered with a good car insurance deal.
Although police spotted the vehicle and began a pursuit it was lost track of and found abandoned in Brockley Combe.
At this stage Troy, accompanied by his handler of three years PC Jim Hampson, picked up the scent with successful results, heading over a fence, through woods and over fields - "It's a real challenge keeping hold of him", said the constable.
Chief Constable Nick Gargan tweeted his praise for his "canine colleague", saying: "More great police dog work overnight."
Troy won praise last October for tracking down a thief who fled after being caught stripping roof metal from a building in Blaise Castle, Bristol.
Copyright Press Association 2013