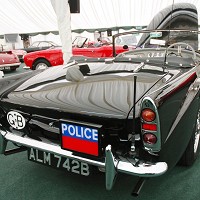 Don't be too surprised if you see Chris Evans riding in a police car. But the Radio Two DJ isn't likely to be in trouble with the law - he has just picked one up at the biggest-ever Historics sale at Brooklands.
The record seven-hour auction on Saturday featured 155 lots of classic motoring history, made by 50 manufacturers over the last 91 years. Two thirds of the vehicles changed hands, making a total of £2.65 million.
Evans was captivated by a 50-year-old Daimler SP250 'Dart' police car that once lived at Scotland Yard. The famous car enthusiast paid £50,400, saying it was perfect for kids and big kids like him.
The largest sums on the day were paid for two Ferraris, the bright yellow 1972 246 Dino GT and 330GT 2+2 coupe, which beat all expectations to fetch £248,640 and £209,440 respectively.
The next big Historics sale at Brooklands Museum in Weybridge, Surrey, will be on Saturday, November 29.
Copyright Press Association 2014