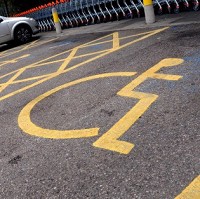 Illegal or discourteous parking is among the most despised practices in Britain, according to a new poll.
The survey suggests that parking in disabled or family parking spaces with no entitlement is among the most hated habits.
Both parking misdemeanours are listed among the worst habits in the eyes of 2,070 adults surveyed by the Charities Aid Foundation. Using a disabled space with no blue badge is in the poll's top five worst behaviours.
Queue pushing and not helping someone struggling with a pushchair walking up steps are also among the most offensive, the report suggests.
Drivers who park in a family space with no children also irritate, along with those having mobile phone conversations in checkout queues and music being played loudly through headphones.
The survey's publication has been released to pre-empt the foundation's Giving Tuesday next Tuesday (December 2). This is a worldwide day of giving aimed at encouraging people to give their cash, support or time to worthy causes.
They can do so through employing the #GivingTuesday hashtag.
The foundation is heading the initiative with backing from 42 partners, including Facebook and the RSPCA.
Copyright Press Association 2014