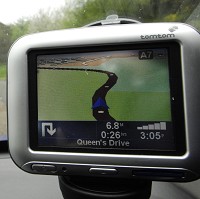 A new navigation device aimed at improving Satnav safety, projects directions onto the windscreen so the driver does not have to look away from the road.
The device from Garmin, called HUD, is situated on the dashboard and receives navigation information from a Bluetooth-enabled smartphone operating a Garmin StreetPilot1 or NAVIGON app.
HUD, which will cost 130 dollars in the US, with an extra 30 dollars for the app, is claimed to provide more navigation details than other portable head-up displays and in a simplified way, avoiding diverting attention from the road.
It projects information on to a transparent film on the wind shield or an attached reflector lens on the device.
Audio directions are given through a built-in speaker and HUD can be charged while driving through an integrated USB port on the vehicle power/adapter cable.
It has not yet been revealed whether HUD - compatible with Garmin StreetPilot Onboard or NAVIGON navigation apps and pairing wirelessly with a compatible Bluetooth-enabled iPhone, Android phone or Windows Phone 8 - will be made available in the UK.
Copyright Press Association 2013