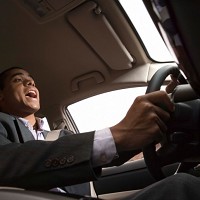 You drivers seem to be in 'dire straits' about what 'will rock you' when you 'go your own way' and get behind the wheel, a survey has indicated.
Dire Straits' song Sultans of Swing accelerated to first place in a list of the UK's most popular driving songs, moving ahead of We Will Rock You by Queen and overtaking Go Your Own Way by Fleetwood Mac.
According to the survey by Auto Trader, 76% of drivers steered themselves towards the volume when their favourite tune came on the sound system.
Some 60% sang along - but only if they were driving solo - while the steering wheel turned into a drum for 38% of those asked.
You may be concerned to hear that 7% of those surveyed said they "jigged about" to the tune, while 2% got their air guitars out and 1% sang into a make-believe microphone.
It is likely that those who lose concentration and really get into the swing of their favourite song while at the wheel will be involved in an accident, which could see them make acar insurance claim. Don't let your car 'bite the dust'.
The Top Ten Driving Songs, according to Auto Trader's survey, are: 1. Sultans Of Swing by Dire Straits; 2. We Will Rock You by Queen; 3. Another One Bites the Dust by Queen; 4. Good Vibrations by Beach Boys; 5. Go Your Own Way by Fleetwood Mac; 6. All Right Now by Free; 7. Born In The USA by Bruce Springsteen; 8. Rolling In The Deep by Adele; 9. I Heard It On The Grapevine by Marvin Gaye; 10. I Can't Get No Satisfaction by Rolling Stones.
Nathan Coe, group director at Auto Trader, said: "We all have a favourite driving song and it's interesting to note that although Auto Trader's customers are from all age groups it is the hits from the 1970s, with four out of the top six, that dominate with only one recent hit making it into the top ten. Maybe they just don't make them like they used to anymore."
Copyright Press Association 2012