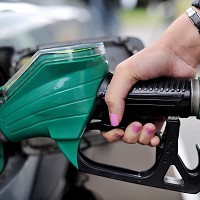 Oil has fallen to its lowest price for more than six years, paving the way for another round of cuts at the pumps.
RAC Fuel Watch data shows Brent crude dropped to $40.40 a barrel on Monday - the lowest price since February 2009 - down $2 from Friday and $5 from a week ago.
"Events in Paris made oil traders react on Monday causing a sudden dip in the price of Brent crude," says RAC fuel spokesman Simon Williams.
"With oil prices already consistently low as a result of too much supply, the dip - even though it will be temporary - should still be reflected in wholesale prices, making fuel cheaper for motorists. We hope retailers will be quick to pass on these new wholesale fuel savings at the pumps to make the cost of litre cheaper still."
A barrel of oil has now not been above $50 since mid-October and not consistently above that mark since the end of July.
The average price of petrol currently stands at 108.01p a litre, while diesel is at 110.24p. But following the dip in the price of Brent crude, prices of both are expected to fall by around 2p a litre in the next fortnight.
"After a summer of lower forecourt prices, motorists are now looking forward to the prospect of yet lower petrol and diesel in the run-up to the expensive festive period," adds Mr Williams.
"While we are a way off average petrol prices reaching £1 a litre, there is a good chance the most price-competitive fuel retailers will take the plunge.
"Let's just hope the Chancellor doesn't spoil the party by using lower prices as an excuse to raise fuel duty in his Autumn Statement next week."
Motoring News articles do not reflect the RAC's views unless clearly stated.
Copyright Press Association 2015