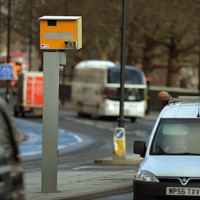 Motorists in London have been warned to keep their average speed down ahead of a new network of cameras being installed.
Following a successful trial along a stretch of the A13 in east London, a series of average speed cameras will be installed at four more locations across the capital.
Average speed cameras are placed at intervals along a road and work together to check if a car is speeding.
This means that, unlike traditional speed cameras, motorists cannot escape being caught by simply slowing down when they see the devices on the side of the road.
Transport for London (TfL) has announced that hundreds of traditional "wet film" speed cameras will be replaced with digital cameras, with the upgrade expected to be complete by October 2016.
TfL's strategy and planning director Ben Plowden says he and his staff are committed to cutting the number of people killed on London's roads by 40% by 2020.
He added that making sure drivers act in a responsible way is the key priority.
Copyright Press Association 2014