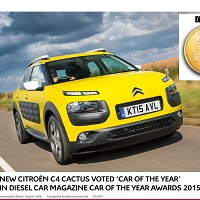 Citroen's C4 Cactus has pricked the imagination of judges at a prestigious awards event.
The French manufacturer's quirky crossover won the most coveted title at the DieselCar Magazine evening.
The C4 Cactus took its Car of the Year 2015 gong, after what writers decided was the hardest call in the awards' history.
The panel tested over 200 new cars during the last year, adjudicating on every one throughout 10 separate categories before the choice was whittled down to 28 finalists.
It was a good night for Citro'n. Besides the top award, the C4 Cactus won best crossover while the Grand C4 Picasso 's charms won it the best MPV honour.
Ford also performed well with the Focus prising the best medium vehicle from Volkswagen's Golf and the ever-popular Fiesta scooping best favourite small vehicle.
This means the latter has only failed to win that category once over the past seven years.
DieselCar's top sports car was the Audi TT and Volvo's latest stable addition, the XC90 , won best 4x4.
The new Jaguar XE won best large vehicle and Mercedes-Benz's S-Class kept its best executive vehicle crown.
Skoda's Octavia Estate retained the magazine's best estate vehicle and Tesla's Model S beat off the challenge of Tesla's Model S for the best EcoCar award.
DieselCar Magazine's publisher and editor Ian Robertson, who revealed this year's 2015 awards, described 2015 as a "bumper" time for newcomers. He said they all showed a substantial quantity of talent.
Mr Robertson also revealed that the finalists stimulated more debate than any other year in the competition's history.
He said of Citro'n's C4 Cactus that it was "incredibly comfortable", "practical" and "affordable", complete with "striking design" that could be very personalised. It is the "perfect" vehicle for the era, he added, and said he was "really proud" at being able to announce it as the overall winner.
DieselCar Magazine's special awards edition hits the newsagents' shelves this Thursday (May 14), including full results and comprehensive analysis.
Copyright Press Association 2015
ttp://www.rac.co.uk/buying-a-car/car-reviews/volvo/xc90 (XC90)