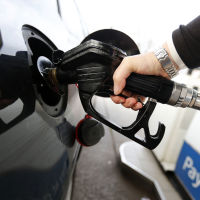 Introducing a scrappage scheme for motorists with diesel cars would cut air pollution in London, according to a new report.
Experts from King's College London and the Policy Exchange think-tank say the move - along with other proposed measures - would boost economic growth and help increase life expectancy.
If introduced, the scrappage scheme would see motorists offered financial incentives for exchanging their diesel-powered vehicles for cleaner cars.
The report also calls for electric vehicles and car-sharing clubs to be promoted, as well as the introduction of measures to stop motorists driving the most polluting vehicles from using London's roads.
Its proposed 10-point plan also includes the roll-out of low-emission buses across the capital and the introduction of "clean-bus" routes. Covering the most polluted roads, such as Oxford Street, the routes would only be open to the cleanest buses, requiring some services to be rerouted.
The director of Kings College London's environmental research group, Professor Frank Kelly, says bringing the most polluted parts of the capital within legal air quality limits will necessitate robust measures and a concerted effort from both the government and City Hall.
Copyright Press Association 2016. Motoring News articles do not reflect the RAC's views unless clearly stated.