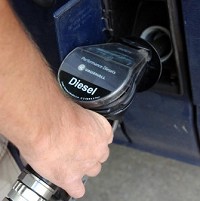 Over three in four diesel drivers say they refuse to pay more in the light of new European anti-pollution plans to penalise them, according to a new poll.
The creation of Ultra Low Emissions Zones (ULEZ) could see motorists in diesel powered vehicles having to pay extra to enter UK cities and towns by 2020.
Diesel drivers feel they already have enough overheads - with road tax, servicing, car insurance and petrol - without having to pay another auxiliary charge, the poll finds.
The zones are being mooted in a bid to improve urban air quality and to avoid EU fines for breaking targets on air pollution.
London's ULEZ, for example, intends to make diesel vehicle owners pay an extra £10 a day for driving inside its limits, in addition to the present Congestion Charge fee.
Mark Carpenter, of Motorpoint, which commissioned the survey, says hitting the drivers of diesel vehicles is not the answer. This is especially so, as they were told they were being environmentally-friendly by buying them in the first place.
Copyright Press Association 2014