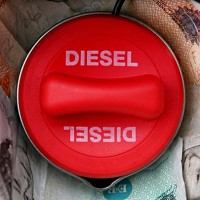 Diesel vehicle drivers who leave their engines running while waiting on shopping runs or outside schools face on-the-spot fines.
London's Islington Council is believed to be the first local authority to introduce the penalty for motorists thought to be polluting the air unnecessarily.
Motorists who leave their engines running while their car is stationary face a £20 fine, doubling to £40 if not paid quickly.
Officials say they will particularly target idling lorries and buses as well as diesel cars. They launched the initiative last week in a bid to meet European emissions targets.
Other local authorities in the capital are thought to be contemplating similar measures against drivers of idling diesel vehicles.
The Federation of Small Businesses claimed on Sunday (August 3) that such a charge will force smaller companies out of London.
The clampdown follows last week's announcement that diesel vehicle drivers will have to pay an additional £10 to drive through the heart of the capital from the end of the decade.
This is on top of the existing congestion charge.
In addition, last week saw reports that over 15 leading cities are considering London-style congestion charges as part of their low-emission policy.
In a bad few days for diesel drivers, London Mayor Boris Johnson called for the Government to increase diesel vehicle road tax.
Copyright Press Association 2014