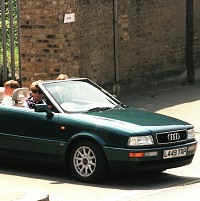 An Audi convertible once owned by Diana, Princess of Wales has gone on display in London before being auctioned.
The 1994 2.5-litre Quattro, which has only 21,000 miles on the clock and is in immaculate condition, was photographed on a number of occasions as Diana drove her sons Princes William and Harry around.
It has gone on display at the Grange St Paul's Hotel ahead of being auctioned byCoys at Blenheim Palace on June 29.
Chris Routledge, managing director of Coys, said: "This is an extraordinary opportunity to own a piece of royal history. We have put a guide price on the car of between £20,000 and £25,000 but we have no idea what it will go for."
People visiting the hotel will also have the opportunity to leave sealed bids for the vehicle, which will then be given to the auctioneer at Blenheim.
Claire Farrington, partnership manager of Grange Hotels, said: "We are delighted that potential purchasers and the public will have a chance to see this iconic car on display at the Grange St Paul's which of course is just a few yards from St Paul's Cathedral which holds such an important place in the history of the British royal family."
Copyright Press Association 2013