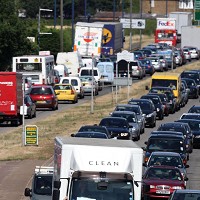 A comprehensive European study of navigation devices shows that nearly 45% of city drivers say they help to avoid traffic jams.
This was one of the outcomes of the four-year study by TeleFOT Consortium to evaluate the effects of driver aids such as smartphones, navigators and other aftermarket car devices on motorists' behaviour and driving.
The research also found that intelligent driving aids helped motorists reach shorter and less trafficked routes. They also helped them to avoid accidental speeding.
The devices had an impact on lowering fuel costs and drivers' anxiety and stress. At the same time, they helped increase motorists' comfort and sense of security.
The extensive research involved nearly 3,000 motorists travelling more than 10 million kilometres in eight countries throughout Europe.
The four-year-long TeleFOT project was one of Europe's largest ICT projects with a budget of EUR 15 million. Finland's VTT Technical Research Centre coordinated the project.
Nearly 45% of the drivers involved in the project, especially those in major cities, said the traffic information function of intelligent driving devices enabled them to skirt traffic jams and delays.
Fuel consumption was reduced by as much as 6% thanks to green driving advisory systems, which gave drivers a breakdown of routes that would result in more economical driving and lower emissions.
Copyright Press Association 2012