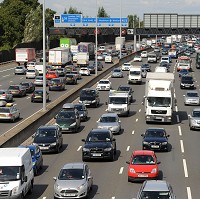 Getting from A to B could take a lot longer if the Government presses ahead with its development plans, it is warned.
The Campaign for Better Transport (CBT) claims long queues and big jams would become a common sight on the road network, as new housing, retail and office developments force people to drive everywhere.
It is calling on ministers to base planning policies around the supply of public transport, or risk gridlock.
Increased traffic would ultimately hit journey times for motorists, potentially adding hours to longer trips. Even a relatively short outing to the local shops could take much longer in the event of backlogs. The need to plan a route before setting off would therefore take on even greater importance.
The CBT cites research that shows building conventional office space alongside the trunk road network significantly increases the number of vehicles on the road and the time it takes to get to destinations.
But Stephen Joseph, chief executive of the campaign group, says you can tackle housing shortages and support new development without resorting to more sprawling suburbs, acres of car parks and big new roads.
He proposes land-use planning and transport policies which support public transport, walking and cycling to counter the threat of traffic, claiming it would also help the economy, the environment and public health.
The CBT is urging the Government, local authorities and developers to make this kind of development the norm.
Mr Joseph has written to Communities and Local Government Secretary Greg Clark highlighting the organisation's concerns.
But a spokesman for the Department for Communities and Local Government says the Government has put sustainable transport at the heart of its planning reforms.
He says national planning policy makes it clear that councils should favour local plans that encourage sustainable transport and use innovative new approaches to reduce the need for travel.
He adds that heavy investment is being made nationwide to ease congestion, provide safer and more sustainable journeys.
Copyright Press Association 2015