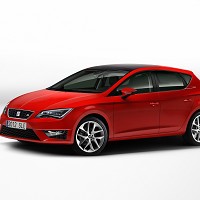 The first pictures and details of the new Seat Leon have been released and the company is hoping its spec will help fight off some upcoming competitively priced rivals.
The third-generation Leon has a 6cm longer wheelbase than the old model, but is 5cm shorter overall. This has the effect of giving the car a more purposeful stance by moving the wheels closer to the car's corners.
However, although it is shorter than previous models it has been designed to include extra rear leg room and almost 40 litres more boot space. It will weigh around 90kg less than before.
The front of the car is identical to the new Ibiza, which has already been launched, except it will be the first Seat model to feature its new front badge.
For a car of its class the new Leon will be available with a surprising amount of technology, including optional full-LED headlights - first for a car of this type.
The new Leon will probably be released near the end of 2012 with a choice of 1.6- and 2.0-litre diesel engines. The range will then expanded next year to include 1.2-, 1.4- and 1.8-litre turbocharged TSI petrol engines.
The new Skoda Rapid, which is expected to be very well priced for its class, is likely to be the car's biggest rival.
Copyright © Press Association 2012