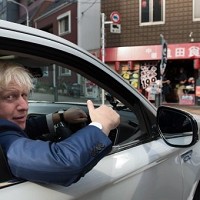 The motorists of tomorrow are all geared up to drive electric cars, a new survey suggests.
Industry research shows that 81% of 14-year-olds planing on buying a car expect to make an electric vehicle their first motor in around 2025.
The study by Go Ultra Low shows that the younger the teenager, the more they demand and expect an electric vehicle.
Some 800 children aged between 14 and 17 were questioned, with the findings revealing that 88% of teenagers think more motorists should convert to electric motors by 2026.
This latest research endorses the momentum gathering behind the plug-in car industry. In July official figures indicated that the amount of plug-in cars sold had tripled over 12 months.
As many as 14,586 were snapped up between January and June alone. The three best-sellers were the Mitsubishi Outlander, Nissan LEAF and BMW i3.
An acclaimed futurologist predicts that the amount of electric vehicle purchases will jump in the years ahead after seeing the latest figures.
Ian Pearson has an accuracy rating of over 85% on predictions no more than a decade into the future, according to Go Ultra Low.
Dr Pearson says that the next generation of motorists is already switched on as regards environmental matters.
He calls the situation "win-win", with teenagers aware that electric vehicles will cost less to run than today's mainstream models.
Dr Pearson believes that electric vehicles will be in more demand than traditionally fuelled ones by 2026.
He says that technological advances, especially in batteries, will make electric cars even cheaper and safer.
Poppy Welch, head of Go Ultra Low, calls the latest findings "really encouraging". She says the teenagers polled will become next-gen first-car purchasers.
Ms Welch claims that younger customers are more likely to make greener buys, especially when choosing which vehicle they are going to drive after throwing away their L-plates.
Copyright Press Association 2015