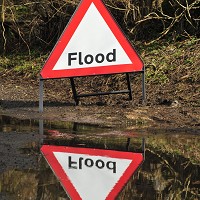 People living in many areas of Britain are bracing themselves for more possible flooding problems in the next few days as heavy rain is forecast.
Between 15mm and 20mm of rain fell in places in south-west England and Wales last night and the wet weather is moving east, with more heavy showers likely tonight. It is thought as much as 30mm may have fallen by Saturday morning.
TheMet Office has issued a severe warning of heavy downpours for the south-west of England, Wales and also the West Midlands. The yellow warning is for people to be prepared.
It said in all likelihood the band of heavy rain would clear in the early hours of this morning and be followed by drier conditions before more heavy rainfall moving in an easterly direction later today and in the early hours of Saturday morning.
The national forecaster said uncertainty on the latter band of wet weather meant its warnings may be adjusted as the situation became clearer, but it stressed that the public "should be aware of the possibility of disruption to travel due to localised flooding."
Copyright Press Association 2012