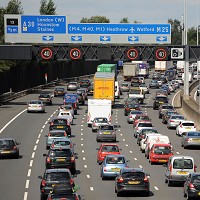 Motorists have been warned of possible delays when M25 maintenance staff begin a series of strikes later this month.
Drivers using routes off the busy motorway may have to allow longer journey times to compensate for any inconvenience caused.
The 170-strong workforce from the Unite union intend to take industrial action over pay - including working to rule - from February 16.
These workers, who maintain and handle incidents across the London orbital road, announced the walk-out after negotiations with their Connect Plus Services employer proved unsuccessful.
Unite said drivers can expect potential delays on gritting, road repairs and accident clearing.
The union claims some staff have been left on unfavourable terms, including sick pay being scrapped during the first 72 hours of going off sick.
Malcolm Bonnett, a Unite spokesman, said the M25 employees' work can be "extremely distressing" and they merit a reasonable wage.
Copyright Press Association 2015