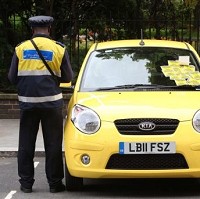 Over a million motorists are being chased by bailiffs and have been left with poor credit ratings over unpaid fines owed to councils, figures released by the Ministry of Justice show.
Last year, 1,132,776 drivers had debts against their names at the Traffic Enforcement Centre, which is part of Northampton County Court.
Motoring groups said bailiffs are using vans with automatic number plate recognition cameras to find cars linked to unpaid fines.
Some motorists do not even know they are in debt, for instance if they have moved house or are the new owner of a vehicle in question.
Motoring fines go up by 50% when they are registered at the centre in Northampton. This means a parking fine in London would increase from £130 to £195, which does not include the substantial bailiffs' fees.
An AA spokesman said: "It is disappointing that some mistakes are made yet councils seem to readily wash their hands of drivers trapped in a cycle of threats from debt collectors and bailiffs."
A British Parking Association spokesman said: "Over the last year, we have been actively engaged with the Ministry of Justice to work towards providing more protection against aggressive bailiffs and encourage more flexibility in bailiff collections.
"There is still a great deal of work to be done."
Copyright Press Association 2013