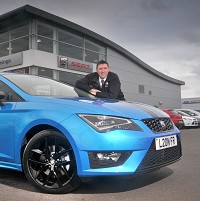 A North East Seat dealer has designed its own version of the popular Leon hatchback, and its customers can now have one just like it.
Jennings Seat, based in Middlesbrough, came up with a blue and black design for a Leon SC FR 2.0 TDI 184PS version and named it the S-Tech. It was so good that it won the Spanish car firm's King of Leon competition and Jennings' customers can get their hands on an S-Tech of their own if they so desire.
The S-Tech, with its Alor Blue finish, packs the side skirts, twin exhausts, diffuser and rear bumper of the latest Seat Sport style kit, gloss black 18 inch alloys and black front valance, number plate surround, spoiler and wing mirrors. The black extends to two 'viper' stripes on the bonnet and roof.
Its £3,500 worth of additions, including a holder for oddments and an iPad, are available in the S-Tech for £2,000 plus the usual price of the Leon FR.
Franchise manager Craig Johnson is a huge Seat fan and he runs the www.lenoc.com fan site. He said Jennings Seat can do an S-Tech makeover on most of the cars in the Leon range and customers can alter the design to their own tastes if they wish.
Ends
A MIDDLESBOROUGH Seat dealership has won a national competition to design a new 'special edition' Leon hatchback just by using the existing customisation options... and a bit of creative thinking.
Jennings Seat won Seat UK's inaugural 'King of Leon' contest with its blue and black Leon FR that has been dubbed the 'S-Tech'. The model can now be ordered by the public, but only through Jennings.
Finished in Alor Blue and including parts from the new Seat Sports Styling Kit (rear bumper, diffuser, twin rear exhausts, and side skirts), it wears 18-inch wheels painted gloss black, while the wing mirrors, diffuser, spoiler, number plate surround and front valance are all painted to match.
As if it wasn't striking enough, the car has been finished off with twin black 'viper' stripes.
Inside, it gets an oddments holder from the official Seat accessories line, but more significantly an iPad is included in the S-Tech's price.
It costs an additional £2,000 to create the S-Tech on top of the price of a regular Leon FR, but the total value of the accessories if bought separately is £3,500.
Jennings Seat's winning entry was led by Franchise Manager Craig Johnson - a genuine, dyed-in-the-wool Seat fan who owns the Leon fan site www.leonoc.com.
Of his win, a delighted Craig said: "The car that we put forward for the competition is a Leon SC FR 2.0 TDI 184 PS, but we can do the S-Tech design to pretty much all of the Leon range, and the customer can tailor each to their personal taste."
Copyright Press Association 2014