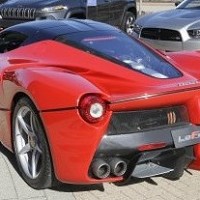 A supercar dealer has attacked proposals to clamp down on motorists accused of disturbing locals with their noisy luxury vehicles.
Alex Prindiville, owner of central London-based Prindiville, has been responding to Kensington and Chelsea borough council's plans to act against the so-called "menace".
He believes the proposals designed to curb the behaviour of the drivers of supercars such as Ferraris and Lamborghinis are excessive, calling them "unnecessary" and "heavy-handed".
Mr Prindiville claims that loud in-car music will be banned alongside engine revving, convoy travelling, accelerating too fast, horn sounding, letting engines idle and causing a moving and stationary obstruction. Other sanctions are also planned, the dealer warns.
But he says that such laws would unintentionally result in the wrong drivers getting penalised for wrong reasons.
For example, Mr Prindiville fears a convoy could be construed as a trio of Range Rovers ferrying children to a local party under the new proposals. These same parent drivers may then be punished for causing a perceived stationary obstruction if they let their children out upon double yellows.
He added: "If the mums dropping the kids off then have a little chat by the roadside with their doors open and music playing inside the car, will they be prosecuted?"
Mr Prindiville urged the local authority to allow common sense to prevail, adding that currents laws remain "perfectly adequate" in dealing with the small portion of supercar motorists who offend.
He went on: "If I were to go shopping at Harrods in the Ferrari LaFerrari currently in the Prindiville showroom and when I started it up it revved loudly - which it would because that's simply what happens with supercars like these - would I be arrested and have my car impounded?"
Mr Prindiville said: "I don't doubt that some of the young Arabs in their powerful supercars do cause a genuine nuisance. But, apart from the price of their cars, are the rest of them so very different from young lads the length and breadth of this country?"
Copyright Press Association 2015