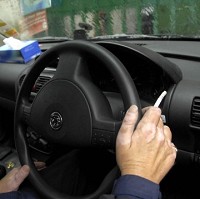 Smoking drivers have been reminded they have just seven weeks to change their habits in time for a new ban.
October 1 sees passengers as well as drivers face £50 fines if they light up with a child on board.
Motorists risk a double fine if they allow a passenger to smoke with them while under-18s are in the car too.
Health officials have redoubled their publicity efforts to raise awareness ahead of the new law's launch, in a bid to prevent a huge number of fines.
English MPs passed the ban in February by nearly a five-to-one ratio.
Around 3 million children - or around one in three under-18s - are subjected to in-vehicle smoke, the Government states. It also says that around 200 children visit their family doctor every week due to the impact of second-hand smoke.
Because children breathe more quickly than adults they are far more vulnerable to the harm caused by other people's smoke, according to Sally Davies, the country's chief medical officer.
Dame Sally says children's immune network, lungs and airways are still growing, making them more susceptible to such harm.
She says the Health Department wants minors to develop free from second-hand smoke dangers, and parents to be made aware why in-car smoking is so risky.
Four-fifths of all smoke cannot be seen, Dame Sally added. Health experts say cancer, bronchitis, meningitis and pneumonia and other diseases can all result from toxin exposure.
Privates vehicles will need to be free of smoke if they contain anyone else aboard except the driver. The only exceptions to this are coupes and convertibles with roofs down completely and stowed.
Smoking adults in open-sunroofed motors will still be subject to penalty charges if under-18s are passengers.
But a 17-year-old smoking on their own in private cars will not be deemed to be breaking the law.
The laws also cover people smoking who sit with the door open of any enclosed car.
The use of e-cigarettes are not covered by the new legislation.
It will only apply to caravans, campervans and motorhomes if they are travelling as opposed to being used for solely domestic purposes.
Smoking aboard public transport and in work cars or lorries is already outlawed.
Copyright Press Association 2015