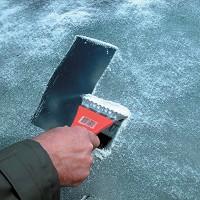 Drivers have been urged not to leave their cars unattended while they de-ice them during the cold snap after a vehicle was stolen from a driveway in Sunderland.
The light green Ford Focus had been left unlocked with its engine running in a driveway on Ravenswood Road, Northumbria Police said. Officers have arrested a 43-year-old man in connection with the theft - the latest in a spate of similar incidents - but have asked anyone with any information to come forward.
The owner of the vehicle now faces making calls to the car insurance company, although police warned motorists that they may not pay out for cars stolen when left unlocked and unattended.
Superintendent Jim Napier called on drivers to allow extra time in the mornings to de-ice their cars but to never leave them unattended in the process. He said a number of incidents had occurred in recent weeks as thieves were operating in the early hours of the morning to take advantage of people leaving their vehicles alone to de-ice.
He added: "We don't want people to become complacent and think they won't be a victim of this type of crime. Allow a few extra minutes to have enough time to de-ice cars and never leave them unattended."
Copyright Press Association 2012