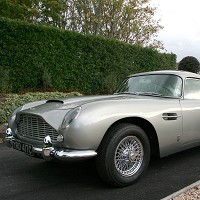 It might not come equipped with concealed machine guns and an ejector seat, but a version of the James Bond Aston Martin model, the DB5, is sure to create excitement when it goes under the hammer next month.
Two of the actors to play the screen super-spy, Sean Connery and Daniel Craig, have both been seen driving DB5s and the version available at Silverstone Auctions ' two-day sale at Birmingham's NEC on November 15 and 16 is a 1965 model in the same colour as the one used in the films, Silver Birch.
The catalogue reveals the Aston Martin, which has spent most of its life in Australia before returning to the UK last year, has undergone recent restorations of its paintwork, upholstery and mechanicals so the new owner should not need breakdown cover if he or she decides to drive it away.
Potential buyers can contact Silverstone Auctions to see the DB5's history of maintenance and repairs before the bidding starts. It is thought the car could fetch between £280,000 and £310,000.
Copyright Press Association 2013