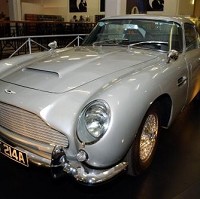 No other Bond car is more prized among motorists than the Aston Martin DB5, according to new research.
The eBay.co.uk study coincides with this week's new 007 release Spectre. The online marketplace reveals that on average one DB5-related piece of memorabilia is snapped up every half an hour during the daytime.
At 37 sales or more per day, the DB5's iconic styling seems to strike as close to the heart as it always has - and there's plenty of advice from the RAC on picking up the perfect Bond car .
As cinema-goers took the chance to see the new Bond movie released on Monday (October 26), eBay.co.uk stressed just how popular the DB5 is since first appearing in the third Bond movie Goldfinger (1964).
Its famous styling makes it twice as popular as its next most coveted rival, the far more modest Citroen 2CV. This bright yellow motor appeared in For Your Eyes Only as a getaway vehicle.
This makes it an even greater favourite than Toyota's GT 2000 (You Only Live Twice), Lotus Esprit (The Spy Who Loved Me) and Sunbeam's Alpine (Dr No).
Bond car memorabilia has always been popular. Last year Aston created a special gold-plated replica DB5 to mark the 50th anniversary of Goldfinger.
Copyright Press Association 2015