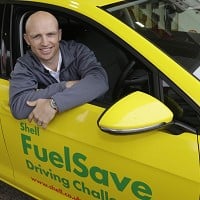 A fuel-saving challenge has seen former rugby star turned TV celebrity Matt Dawson drive from Preston to London via several city centres, aiming to use as little fuel as possible.
Shell has started a FuelSave initiative ahead of its 2013 Shell Eco-marathon Europe, and as part of this, Matt was asked to drive as fuel-efficiently as possible from the University of Central Lancashire in Preston to London. Hisjourney planner also took in stops in Manchester, Stoke-on-Trent, Birmingham and Oxford.
In total Matt used just 16.98 litres of Shell FuelSave diesel in driving the 294 miles from Preston to London using fuel economy techniques in his 1.6-litre Volkswagen Golf 1.6 TDI, supplied by rental firm Avis. The 78.71 miles per gallon (mpg) he achieved, beat the 74.3 mpg the same car achieved in a standard fuel economy test.
During the challenge, Matt spoke to consumers at various Shell forecourts to discuss fuel economy and also met students embarking on the Shell Eco-marathon to learn more about the future of energy.
After completing the challenge Matt spoke about his 'great experience', saying: "The demand for energy is set to increase in the future and by using the right fuel and making simple changes to our driving habits, we can all reduce our fuel consumption and costs. I hope by completing this challenge I've shown UK drivers that it's easy to save fuel and encourage them to try it for themselves."
Copyright Press Association 2013