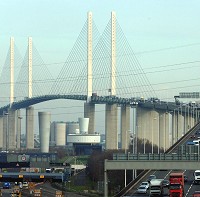 HGV drivers are being urged to take extra care when approaching the Dartford Tunnel.
The crossing no longer relies on staff at toll booths to identify oversized vehicles and hazardous loads.
A new traffic safety system has been put in place to detect unsuitable vehicles. It means it is now up to drivers planning journeys via the crossing to make sure they are in the correct lane.
Failure to follow the signs could result in penalties.
The changes are designed to keep traffic flowing through the tunnel and reduce disruption for the thousands of motorists that use the route, particularly at rush hour when people are travelling to and from work.
Vehicles measuring 4.8 metres high or less are permitted to travel in any lane but those above 4.8 metres must approach in the two right-hand lanes after junction 1a to travel through the higher east bore tunnel.
Lorries over five metres, on the other hand, are too tall for either tunnel and must leave at junction 1a.
A series of traffic lights and automatic barriers will stop lorries driving through the tunnel in the wrong lane. Offending vehicles will be turned back to junction 1b, where they will be met by an escort and taken through the tunnel.
Drivers face the prospect of fines and potential points on their licence if they do not comply with the restrictions.
Natalie Chapman, Head of Policy for London at the Freight Transport Association , says the new road lay-out could lead to confusion.
She is therefore encouraging freight companies to update their staff on the new regulations as soon as possible in a bid to ensure they do not fall foul of the new system, part of the Dart Charge scheme.
The Dart Charge was introduced in November in a bid to ease congestion for drivers at one of biggest motorway bottlenecks in Europe - and has already had a positive effect.
Crossing tolls are now paid online, rather than at toll booths, something which has improved traffic flow.
Copyright Press Association 2015