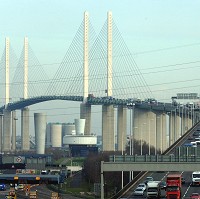 Motorists awaiting the launch of a new "cashless" payment scheme used in conjunction with the Dartford River Crossing will have to wait a little longer.
The changes, aimed at making it simpler and cheaper to cross the busy Kent crossing, have now been delayed delayed until late November as further tests are applied to the new system.
Road bosses had originally planned for toll booths at the crossing to be scrapped by around mid-October with a new "free-flow" traffic system put in its place.
But the Highways Agency says the system needs to be thoroughly tested before being introduced, setting it back more than a month.
The agency says that motorists will be given plenty of time to sign up for a pre-pay account before the system is put in place.
This, it is hoped, will help to dramatically speed up the flow of traffic on the road and make it cheaper for those drivers who have signed up - with discounts of up to a third available on every crossing.
Highways Agency project leader Nigel Gray said: "Dart Charge is a massive change for drivers using the Dartford Crossing and it's only right that it is thoroughly tested before being introduced."
The Freight Transport Association said the delay was disappointing "as it may present additional costs to industry".
Copyright Press Association 2014