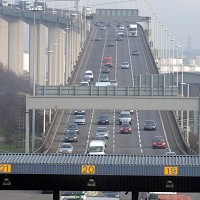 The toll at the Dartford-Thurrock River Crossing on the M25 is set to increase in the autumn, with further rises in the future also planned.
From October, car drivers using the crossing on the Essex-Kent border will have to pay £2 to use the crossing - a hike of 50p.
The charge for light goods vehicles will rise from £2 to £2.50, while drivers of heavy good vehicles will have to fork out £5 - a jump of £1.30.
In addition, the toll charge is poised to rise again when electronic charging -meaning vehicles will no longer have to stop to pay - is introduced to the crossing in October 2014. This means cars will face a charge of £2.50, whereas light good vehicles and heavy good vehicles will have to pay £3 and £6 respectively.
Road Minister Mike Penning said: "The Dartford-Thurrock River Crossing is a vital piece of transport infrastructure that has brought huge economic benefits to the country but currently it can't meet the growing demands of drivers so we need to plan properly for the longer term."
The crossing will remain free for motorcyclists for the time being, while discounts are set to continue for local residents and also drivers who pay in advance whenplanning their journey.
Copyright Press Association 2012