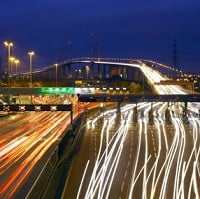 The likelihood of accidents on the Dartford Crossing should recede from next month.
A new safety network - which will also speed-up traffic flow - is opening for general use on June 13 and 14.
Drivers have been warned to expect overnight tunnel closures during the weekend as the network is introduced. But one tunnel should stay open throughout to keep traffic disruption to a minimum.
The safety network is being incorporated into the recent Dart Charge initiative, which is helping to reduce journey times via the landmark crossing.
Since coming in last November, the charge scheme has seen digital payments replace the need to stop and pay at a toll booth.
The new safety network will single out, halt then turn around cars it perceives to pose safety threats before they can go in the northbound tunnels linking Kent with Essex.
Risks may be posed by vehicles carrying cargoes which are thought to be too dangerous or big. Such goods vehicles will be safely escorted in the tunnels. The network will also prevent vehicles from entering the crossing's tunnels after an accident.
Although the new Dart Charge was launched last autumn, drivers have been told that they won't feel the full benefit until the summer. This is when the last road layout alterations will be finished.
Highways England has released a new video to go with its leaflet explaining just how the tunnel safety system should work.
Nigel Gray, director of the Dart Charge scheme, said journeys have been substantially improved since the project was opened last November. Mr Gray describes the latest safety system as "vital" for the tunnels' safe running.
Mr Gray warned motorists to proceed with additional caution and give special attention to every signal and sign. This is especially key for drivers who are new to the crossing after the alterations.
Previously, the crossing had been described as among Europe's largest motorway bottlenecks.
Copyright Press Association 2015
https://www.gov.uk/pay-dartford-crossing-charge (Dart Charge)
https://www.youtube.com/watch?v=D-gSG87sDIw (new video)