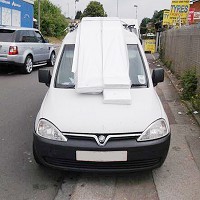 A van with its windscreen nearly completely covered by building materials has been pictured on Twitter with an accompanying scathing comment from police after being pulled over.
Two photos of the white van, pulled over in Aston, Birmingham, were posted by police and show plastic strips on the roof, bonnet and windscreen.
Its driver, a woman aged 30, is to be prosecuted, both for not having insurance and for carrying a dangerous load.
The accompanying West Midlands Police comment on Twitter compared the UK's short supply of fossil fuels with its short supply of common sense, with Aston providing "yet more proof" of that.
Such embarrassing incidents should act as a warning in more ways than one, especially when it comes to considering what effect they can have on car insurance premiums.
The tweeted photos showed the interior and exterior of the van which police stopped in Aston Hall Road on June 18, and subsequently seized.
Copyright Press Association 2014