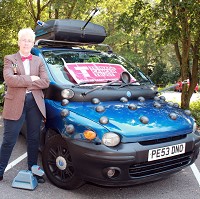 Doctor Who fans are bringing their own sense of adventure to a European rally in the form of a "Dalek" car.
A group of four calling themselves The Doctors will take turns driving their converted Fiat people carrier in the Wacky Rally from France to Spain, for the Teenage Cancer Trust
It will be checked for safety - along with the around 70 other cars - by the event organisers prior to the start in Lille, northern France on Friday.
They then take on a four-day, 1,500-mile route through Belgium, Germany, Switzerland and over the Alps into Italy, before traversing the French Riviera and heading to Spain.
The car's new features include arms made from broom handles on the bodywork, a kitchen whisk (the Dalek ray gun), and a bathroom plunger (the Dalek arm as seen on TV).
A walking stick with a mounted LED light stands in for the Dalek eye, and the Dalek body bumps are portrayed with black-painted polystyrene spheres cut in half.
Flashing blue 'Dalek' lights are on either side of the roof-box to complete the look.
The seven-year-old car is MoT'd, although one of the Doctors, Clare Brookes, admits: "It won't pass another".
Ms Brookes and her friends took months to convert the Fiat into the Doctor's oldest enemy. It even has a loud hailer in the sun-roof emitting the Dalek battle cry "Exterminate" on demand.
Her team mates, all from Nuneaton, are Martine Smith, Lesley Sheppard, and Michelle Orton.
It was the Fiat Multipla's unusual appearance which prompted the making of the Dalek car, said Ms Brookes.
Copyright Press Association 2014