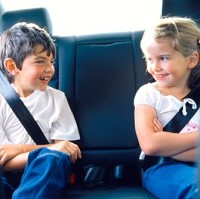 Most youngsters think dad is better at driving and parking than mum, although nearly twice as many prefer the latter as a car companion.
According to the survey of 1,000 children aged five to seven, kids rank their parents' out-of-tune singing and bad music taste high on their list of pet hates when travelling in the car.
Road rage was also a particular dislike of children, with mothers more likely to use bad language towards other drivers in front of their offspring than fathers.
The RAC research revealed that nearly all children were able to correctly identify the petrol-filling sign, although some thought it represented aliens or a gas mask.
Youngsters also had a good imagination when it came to signs and lights inside the car. For instance, a selection of them believed the airbag sign was a rollercoaster or a snail or "a pregnant lady", with only 24% correctly identifying it.
The temperature sign also threw up some interesting comparisons, with some children believing it showed a boat, a lighthouse and even a lollipop. Just 28% correctly recognised it.
Copyright Press Association 2012