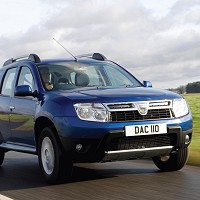 Fast-growing car maker Dacia is marking a year's presence in the UK with the launch of a special offer on its Duster SUV.
The Romanian-based firm, which arrived in the UK with the promise to "shake up" the market, claims it is the most rapidly-expanding vehicle brand in the country and aims to attract more buyers for its SUV thanks to new monthly repayment deals.
Dacia UK brand manager Andy Heiron said certain Duster Ambiance models could be bought with just a £199 deposit and monthly payments of the same amount. An additional £10 a month allows buyers to upgrade to the Laureate.
Mr Heiron said it had been a record-breaking year for the company and it wants to show its "appreciation" to the public with a special deal. Although customers have to bear in mind the cost ofcar insurance and other extras, Mr Heiron said he is confident it is an attractive offer.
"We've been asking customers to 'do the maths', but even I'm struggling to get my head around this latest price - what you are getting for your money is scary," he claimed.
Copyright Press Association 2014