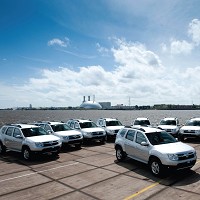 Renault-owned car firm Dacia can boast a successful first year in the UK, claiming 1.4% of retail car sales during 2013.
The budget car maker sold more than 17,000 vehicles, with a few hundred being snapped up by company car owners.
An end-of-year report shows its four-wheel Duster mini-SUV can lay claim to the best-seller title, with 7,830 cars being moved, while the Sandero took second place by selling 5,025 units.
The arrival of the Sandero Stepway in May saw 3,770 drivers leave the forecourts in the model, while the Logan MCV saw sales of 521 after coming onto the market in September.
With prices as low as £10,000 for the Duster and £6,000 for the Sandero, drivers can also take advantage of three years' warranty and favourablecar insurance premiums.
Copyright Press Association 2014