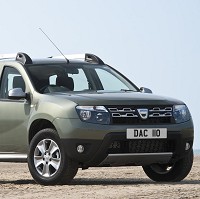 Dacia has revealed some of the changes motorists will see to its Duster SUV next year.
The Romanian manufacturer says that, despite the revamp, motorists will not notice a price rise - with the two-wheel-drive version available from £9,495 and the four-wheel-drive from £11,495.
The 2015 Duster will be available with three levels of trim and a choice of two engines.
Duster-branded roof bars will feature on all versions with Dacia promising a chrome front grille, more stylish than its predecessors, along with a black tailgate trim.
All the new Dusters will also come with fresh seats and upholstery.
Top of the range models, meanwhile, will come with 16-inch alloy wheels as well as dark metal mirror casings and door handles that match the vehicle's body colour.
Motorists will get an emergency spare wheel as standard on the Duster's four-wheel-drive versions with the accessory coming as a £150 option on the two-wheel-drive vehicles.
Copyright Press Association 2014